Offshore Bank Account: Everything You Need to Know
4 minutes read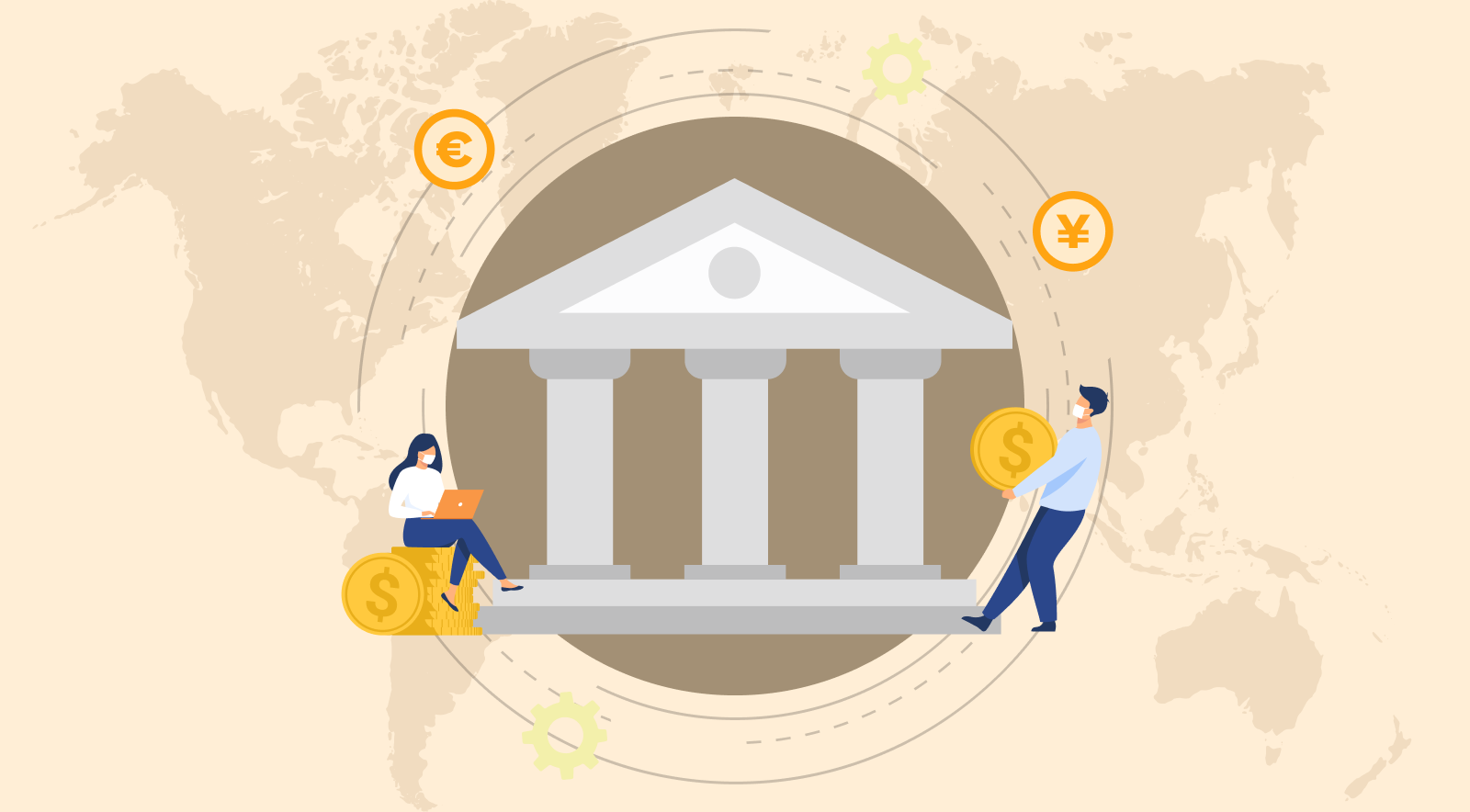 India has a robust banking system for you to carry out your banking transactions. However, there may arise a need for which you will have to open a bank account in a country other than your own, if you have an offshore business. For such purposes, you would have to open an offshore bank account.
There are a few myths around overseas bank accounts in India:
The moment you hear 'foreign bank account', your mind first wavers to Swiss bank accounts. Swiss bank accounts have a tarnished reputation in India due to their association with tax evasion and privacy. In reality, Swiss banks are some of the safest in the world.
Another common belief is that only the rich can open offshore bank accounts. That's not the case either. Any Indian resident can open an offshore bank account.
What is an Offshore Bank Account?
An offshore account is one that is opened by a citizen outside her home country. This does not apply only to Indian citizens. A citizen of the US, opening a bank account in Canada has also opened an offshore bank account.
Does RBI allow Indian residents to open a foreign bank account?
Yes. RBI permits Indians to open and maintain a bank account overseas. Under the Liberalized Remittance Scheme of the RBI, sending money to your account overseas is a legitimate purpose. RBI revised the LRS purpose code S0023 to 'Opening of foreign currency account abroad with a bank' in Feb 2016.
Now that we are clear that opening a foreign bank account from India is legal, it's time to come to the operational aspect of opening an account.
How Can You Open an Offshore Bank Account from India?
Let's consider foreign accounts in two categories
1. Traditional Offshore Bank Accounts
There is a reason the myth – 'only for the rich' – exists. It's because of the tedious process of opening a foreign currency account with a traditional bank. In many countries, including the US, you can only open an account by physically visiting a bank branch with all your documents. Many other banks need you to maintain a very high minimum balance in the account.
Just like a bank account in your home country, you will also require your personal information and identification documents to open an international business account.
Some documents that the bank may need are a passport, driver's license, or other national ID. To verify your physical address, you can submit a utility bill, bank statement, or Aadhaar card.
To open the account remotely, banks usually require notarized copies of documents. However, many offshore banks prefer an apostilles stamp. An apostilles stamp is a special certification mark used overseas. Such stamps are not available everywhere. You may have to visit a government office authorized to issue such stamps.
The list doesn't end here. There are additional requirements too to open a bank account. These include financial reference documents from your current bank, source of funds, employment or business records, and more. Such norms are put in place to discourage money laundering, tax fraud, and other illegal activities often associated with offshore banking.
2. Multi-Currency Account with UK financial institutions
Multi-Currency Account with E-Money Institutions in the UK is a preferred alternative to traditional banks for many Indians. Winvesta is the first financial platform to bring multi-currency business accounts to India, enabling you to receive, hold and spend in 30+ currencies.
So why is a multi-currency account better than a traditional foreign bank account? Well, here are a few reasons
Quick digital onboarding

: It takes only minutes to sign up for an account.

30+ Currencies:

Winvesta MCA offers individual accounts in 30+ currencies, including USD, GBP, and EUR. All on one platform. You can convert and transfer money between accounts free of cost.

Your own foreign accounts:

The accounts are in your name, and come with details like sort code, IBAN, routing number, and more.

Low, transparent FX costs:

Convert between currencies without any fixed fee. See the FX rate before conversion.

Local payments to 17 countries, including India:

Save money on international wire transfers by using our local remittance capabilities. You won't get that with a traditional bank.

Local receipts

: Receive money locally in USD, GBP, and EUR. This means an easy collection for you, and less hassle for the sender.

Secure and safeguarded: Your money is safeguarded with a large financial institution like Barclays. Unlike traditional banks, the E-Money Institution cannot use your money for lending or operations.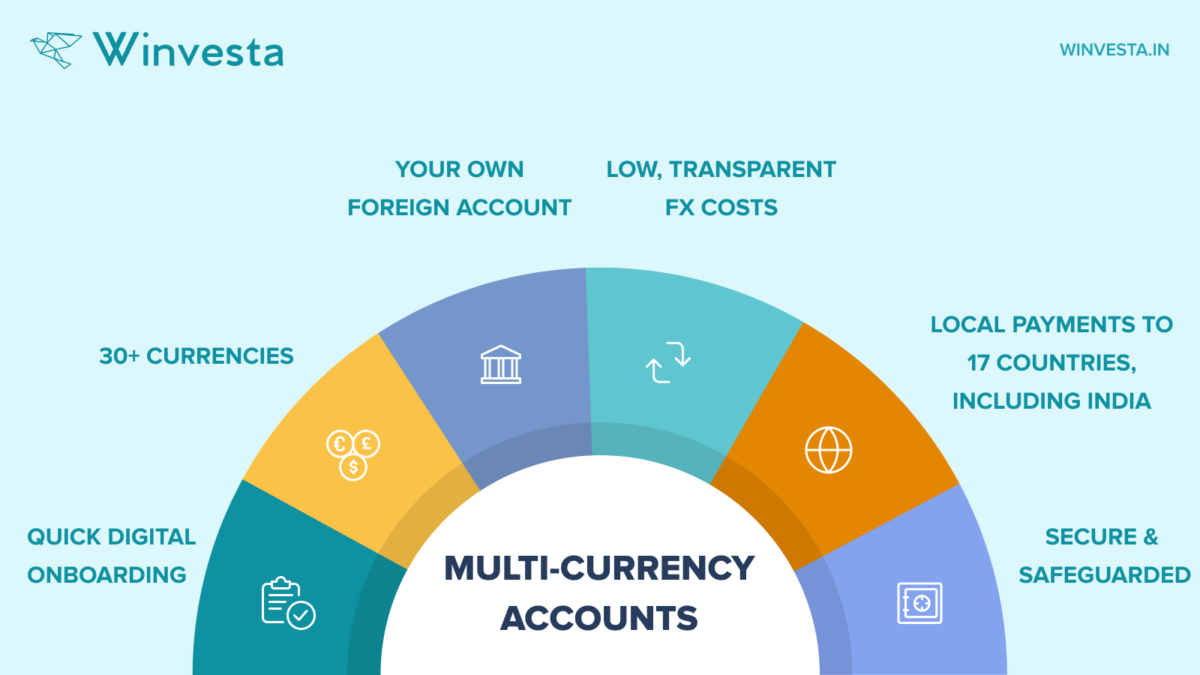 In Which Countries Can You Open an Offshore Bank Account?
Winvesta Multi-Currency Business Accounts are domiciled in the UK and regulated by the UK's Financial Conduct Authority. You get the protection of a strong regulator, and the flexibility to get accounts in 30+ currencies of your choice in one place.
There are several countries where you can open traditional bank accounts. The five top countries are:
Cayman Islands:

Known for being a tax haven for people across the globe. Along with negligible taxes, Cayman Islands also have confidentiality clauses that protect investor privacy. It is usually suitable for businesses however as the purpose of the account is to compliment a business established in Cayman.

Switzerland:

The synonym for foreign bank accounts, Switzerland banking also offers strict confidentiality services to their clients. Along with privacy, the financially stable economic system also makes it safe to invest in that country. Swiss banks are notoriously difficult to open however with high minimum balances.

Singapore:

Opening your account in Singapore is also another option, especially if you want to hold funds in Singapore dollars.

Germany:

Known to be among the safest to open an account, Germany offers financial stability and strict safety protocols to retail clients. It is not easy for Indian residents to get an account in Germany, however.

Belize:

The financial sector in Belize is one of the major contributors to the country's exchequer. The major use of an account in Belize is asset protection and tax-free status on investment income. The upfront cost of getting an account in Belize can run into a few thousand dollars.
In Which Currencies Can You Open an Offshore Account?
Again, with Winvesta, you can get access to accounts in 30+ currencies in one place. This includes USD, GBP, EUR, SGD, AUD, CAD, JPY, and CHF. You can find the full list here.
Traditional banks need you to select a currency in which you wish to open the account. The list is usually restricted to USD, GBP, EUR, and JPY.
How Do You Deposit Funds in Offshore Accounts?
International wire transfers are the most common methods to make deposits in your offshore bank account. And no, these are not the RTGS, IMPS, NEFT facilities that you make use of while transferring funds domestically.
All the banks charge an international wire transfer fee to send or receive funds. The fee differs based on the bank you use. The wire transfer is the most reliable source to send or deposit funds. Banks don't accept checks generally and depositing funds in person is not practical.
How Can You Withdraw Funds?
There are a number of ways through which you can withdraw your funds. Many offshore banks issue a debit card through which you can access your funds in any part of the world. You need to be aware of the fees that are imposed on using the cards. Larger the withdrawal, the lesser the fee.
With Winvesta, you can avoid the high fees associated with the withdrawal of funds to your Indian bank. You can make local transfers to India from your MCA for just $1, and avoid both the high sending and receiving fees associated with wire transfers.
Ready to Open a Foreign Currency Account?
You can now get an overseas account in minutes with Winvesta. Receive, hold and spend in 30+ currencies including USD, GBP, and EUR.
Learn More